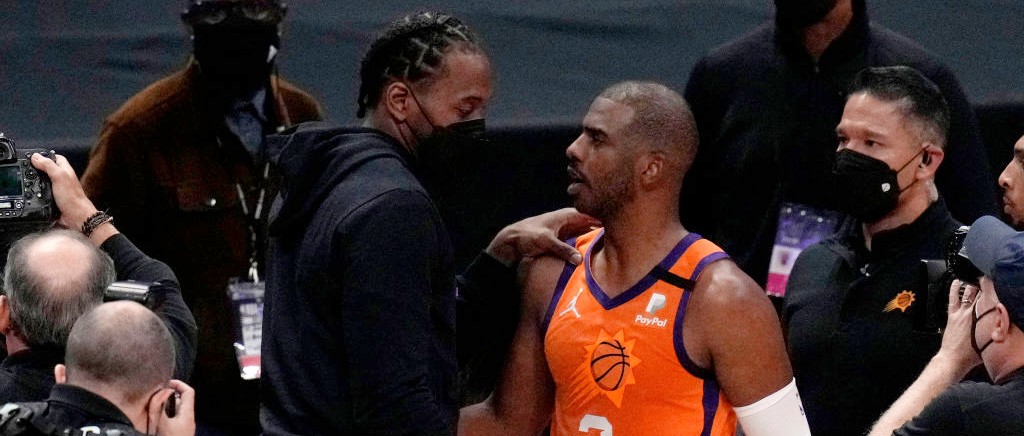 There aren't many franchise-changing stars expected to be available when free agency opens on Monday, as Kyle Lowry is the top prize for most teams that feel they're one major piece away from contending and will have first pick of most teams with cap space (or sign-and-trade) interest.
However, there are two players that could, if they wanted to, completely shake up the 2021 free agency landscape. Kawhi Leonard and Chris Paul each had player options facing them and the expectation has been that both would decline those options and re-sign with their current teams in L.A. and Phoenix respectively. That said, by declining the options and becoming unrestricted free agents, both would at least crack the door open for a departure, which would send ripple effects throughout the league.
On Sunday, word emerged that both players had declined their options and would look for new deals tomorrow when free agency opens at 6 p.m. ET. Chris Haynes broke the Kawhi news first, with Adrian Wojnarowski confirming and noting the expectation is a new deal gets done with the Clippers.
Los Angeles Clippers star Kawhi Leonard is expected to decline his $36 million player option to become an unrestricted free agent, league sources tell @YahooSports.

— Chris Haynes (@ChrisBHaynes) August 1, 2021
Kawhi Leonard has declined his $36M player option for next season and becomes a free agent, per source. Now, the expectation is that Leonard will negotiate a new deal to stay with Clippers. @ChrisBHaynes first on declining option.

— Adrian Wojnarowski (@wojespn) August 1, 2021
Shams Charania then brought word that Paul was declining his $44.2 million option, while Woj reported a decision wasn't final but if he did, there was hope for the Suns that they would work out a deal in short order.
Los Angeles Clippers' Kawhi Leonard is declining his $36 million player option for the 2021-22 season and becoming an unrestricted free agent, sources tell @TheAthletic @Stadium.

— Shams Charania (@ShamsCharania) August 1, 2021
Chris Paul has until midnight ET to decide on his $44M player option, but there's optimism that if he does decide against picking it up that he and the Suns can reach a new deal when free agency opens on Monday night, sources tell ESPN.

— Adrian Wojnarowski (@wojespn) August 1, 2021
Of the two, Paul seems most likely to explore more avenues in free agency than Leonard, who many expect will sign a 1+1 max deal with L.A. that will allow him to rehab from his torn ACL, play in 2022-23, and then be able to sign a 5-year supermax deal from the Clippers (or look elsewhere in free agency). Paul's future seems most likely to continue to be in Phoenix, but with the way Robert Sarver talked about Paul's free agency, it certainly seems as though the Suns aren't fully confident that they'll run it back next season.
Paul will surely hear overtures from the likes of the Mavericks, Heat, and any other contender who has a point guard need and has been connected to Kyle Lowry, but it seems as though it would take a substantial surprise offer to come his way for him to bolt Phoenix. That doesn't mean its impossible, but after reaching the Finals this year, there's little reason for Paul to think this Suns team can't get him over the hump, at least compared to the teams that can offer him real money.