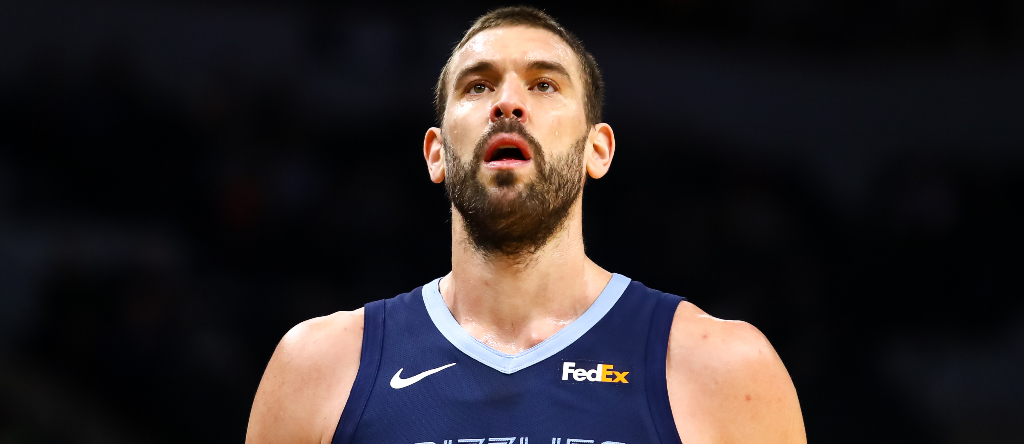 Two summers ago, in an aim to keep myself occupied away from the sweltering heat that is late August in Spokane, Washington, I rewatched the 2019 Eastern Conference Finals between the Milwaukee Bucks and Toronto Raptors. I was prepping for an article focused on the optimal defensive coverage against Giannis Antetokounmpo, framed through the lens of how it could apply to the Philadelphia 76ers, who were expected to be a contender during the 2019-20 season (whoops).
I generally recalled how the Raptors accomplished such a feat of limiting Giannis: communication; timely rotations; exquisite help positioning; rangy, durable, smart, and mobile defensive personnel. Guys like Kawhi Leonard, Fred VanVleet, Kyle Lowry, and Pascal Siakam were pivotal in these efforts.
What I didn't recollect while watching that series in real time was the magnitude of brilliance of Marc Gasol's efforts. Swift, strong hands to fluster Giannis' ball control on his spin moves and gangly, bounding strides. Shrewd rotation after shrewd rotation on his face-up touches. The bulk and discipline to alter the MVP in the paint. A single Raptor did not deserve the title of Giannis Stopper

, but Gasol was squarely in contention for the most prominent slice of responsibility pie.
Much has changed since that series two and a half years ago. The Raptors won their first title shortly after defeating Milwaukee. Giannis overcame many of his playoff bugaboos offensively and is now the reigning Finals MVP. Kawhi is a Los Angeles Clipper. Lowry is a member of the Miami Heat.
And Gasol, according to ESPN's Adrian Wojnarowski, has stepped away from the NBA to spend more time with his family in Spain after a 13-year career. The 36-year-old winds down his tenure in the league with a ring, the 2012-13 Defensive Player of the Year trophy, three All-Star berths, and a pair of All-NBA nods. He has a strong case for being the greatest player in Memphis Grizzlies history.
At the apex of his game in the early to mid-2010s, the man dubbed Big Spain penned a beautifully dominant brand of hoops. As a scorer, he mixed gracefulness with a punishing post game, where he paired a vast arsenal full of girations, up-fakes, and dexterous footwork with feathery touch.
Prior to Nikola Jokic's ascension, Gasol carried the NBA's contemporary mantle for playmaking big men. The stage for this performance was everywhere: the elbows, the block, the top of the key, all over the hardwood. He wove dimes through keyholes, wrapped feeds around defenders precisely into the arms of a cutter for a layup, and slung audacious, dizzying full-court outlet passes following a rebound. His highlights are sizzlingly splendid.
Defensively, he was nimble and agile enough to function outside of the paint, yet also imposing to the point of anchoring a top-10 defense year after year, all the while demonstrably orchestrating the coordinates of his teammates to maximize their services.
Once his peak transitioned from the current juncture to a pit stop along the NBA journey, adaptability helped define his longevity and approach. As the proliferation of the long ball spawned across the league, the low-post professor simply responded by welcoming it. Through his first eight seasons, he attempted 66 threes. Over his final five seasons, he hoisted 1,131, drilled 37 percent of them and emerged as a preeminent stretch big.
As the boundaries of his self-creation shrunk and new Canadian circumstances dictated steps down in the scoring hierarchy, he seamlessly obliged. In Toronto, his connective passing, floor-spacing, defensive artistry, and holistic basketball panache were entrenched among the team's ethos. They were to diversely smother teams on one end and harmonize on the other with snappy reads and waves of movement (the scoring chops of that Kawhi guy helped initially, too). The Raptors, as they always did, assumed Lowry's identity, but Gasol was an extension of that. To bestow platitudes on those exceptional teams would be to concisely describe the merits of Gasol's game.
Aging stars do not always capably adjust to their increasingly limited realities — not that it's an indictment of those who grapple with such a shift. Doing so is arduous and sometimes hazy. But with Gasol, it all appeared overwhelmingly effortless. In a moment's notice, he went from a Grizzlies icon to a crucial member of the Raptors' title pursuit and continued excelling.
Every job, regardless of its perceived glamour, mattered for him. Every city he called home mattered. There is no coincidence that both the Raptors and Grizzlies achieved previously unforeseen heights with him at the center or adjacent to it. Never did his duties seem ignoble to downsize from star 5-man whose touches and shots predominantly defined a game plan to starting center whose shots and touches would arise organically to reserve big whose minutes were matchup-dependent. All of it was basketball, which produced distinct joy for Gasol.
He was starkly aware of the abilities he lorded over his peers. He'd furrow his brow to denote a crucial possession, jolt a fist-pump into the air upon a preferred outcome, or emanate the bravado that feels so paramount for the game's brightest stars and their corresponding success. A poker face would never suit him. Basketball elicited emotions and thus, they were to be conveyed, including any anger, frustration, or anguish. Equally, though, he reveled in the community of players and the relationships fostered through the sport.
Amid the theatrics that succeeded Kawhi's improbable Game 7 dagger against the Sixers, Gasol and Joel Embiid crossed paths. They'd just spent two weeks as fierce foes. Gasol was a constant thorn in the superstar's offensive intentions, flummoxing him with brawn, pesky hands and a keen understanding of angles. Head angled downward, Embiid somberly sauntered to the locker room as tears welled in his eyes. Gasol intercepted him, tapped him on the chest, and embraced the big fella while whispering words in the ears of his recent rival.
Perhaps, he empathized with the purity of unfiltered emotions evoked by this sport and passed along lessons to channel sorrow into future success. Whatever those words were, they were pointed. Even as the festivities ensued, Gasol was determined to ensure his message resonated.
Because Marc Gasol profoundly cares about basketball, and life. His NBA career reflected that. If this is the end, whatever comes next surely will, too.