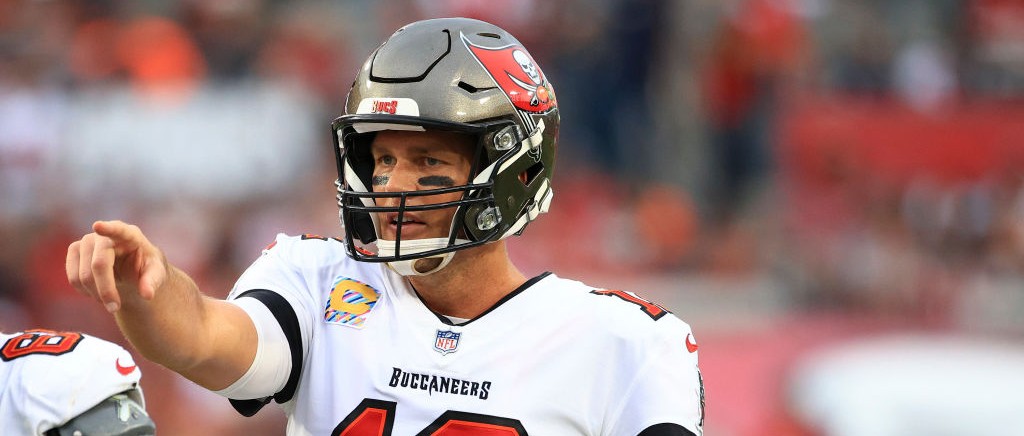 Tom Brady made NFL history on Sunday as the first quarterback to ever throw 600 touchdown passes (now 602) with a pass for a TD to Mike Evans in the Bucs blowout win over the Bears. Evans, not realizing the momentous occasion, gave the ball to a fan in the stands in Tampa as he so often does, and had a rather hilarious reaction to learning he gave away Tom's 600th TD ball.
The Bucs did some negotiating and got the ball back, and there's been a bit of uncertainty on exactly what the fan, Byron Kennedy, got in exchange. On Monday, Rick Stroud reported quite the haul was headed his way, with signed jerseys, helmets, cleats, and balls from Brady and Evans, as well as the Bucs taking care of him with tickets for this season and the next.
Bucs are giving Byron Kennedy the following for the No. 600 TD football: Two signed jerseys and a helmet from Tom Brady, a signed Mike Evans jersey & his game cleats, a $1K credit at our team store, and two season passes for the remainder of this season as well as next season.

— Rick Stroud (@NFLSTROUD) October 25, 2021
That's a pretty good get for, effectively, being the lucky fan to get a ball tossed your way on a Sunday, but Brady decided to loop one of his sponsors in to sweeten the pot with something of seriously substantial value, as FTX will send him a Bitcoin for being willing to trade the ball back to Brady.
We're in.

One whole #bitcoin it is! Time to make the trade.

— FTX – Built By Traders, For Traders (@FTX_Official) October 25, 2021
I do like that Brady is getting his sponsor to shoulder the financial burden here, but they'll happily do it for the tremendous pub that will come with it. For Kennedy, getting a whole Bitcoin is a helluva reward, as the ever-mercurial cryptocurrency is valued at $63,000 currently, which, again, is a solid day's work for…going to a football game and being in the right place at the right time.
The post Tom Brady Is Going To Get The Fan Who Gave Back His 600th TD Ball A Bitcoin (Plus Season Tickets) appeared first on UPROXX.