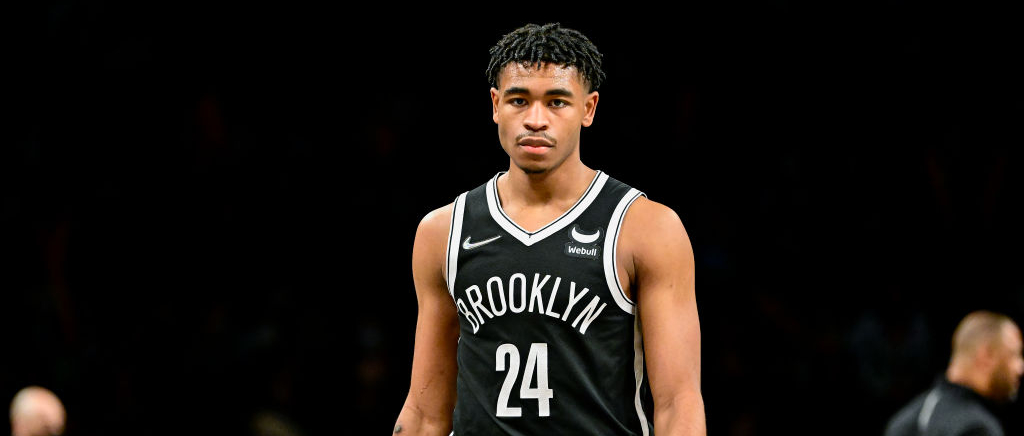 The Brooklyn Nets played one of the worst first halves of basketball any team has all season, trailing by 21 at the half and by as many as 28 to the Knicks in Madison Square Garden.
While the Knicks are always capable of giving up a lead, with Kevin Durant and Kyrie Irving both out (and Ben Simmons still not ready to play), it was hard to see where the offensive burst would come from if they were to claw their way back in. However, after starting to reel in the Knicks in the third quarter, rookie Cam Thomas — who had been 2-for-11 through three quarters — put the team on his back in the fourth in an absolutely stunning comeback win for Brooklyn.
Thomas had 16 points on 7-of-10 shooting in the fourth quarter, as he found his stroke and did not care who was in front of him once he got to his spot and rose up for a jumper. The rookie tied the game for the first time midway through the fourth, as the MSG crowd could only watch in disbelief that this was happening again.
CAM THOMAS TIES IT FOR BROOKLYN

The Nets have rallied from a 28-point deficit pic.twitter.com/xXww3jpmr5

— NBA TV (@NBATV) February 17, 2022
Thomas then gave the Nets their first lead of the game with another pull-up from the right wing, as he picked apart the Knicks defense and hit tough shot after tough shot.
Brooklyn would eventually find itself up three and had the ball with 16 seconds to play, shot clock at 10 after a wild sequence featuring a pair of offensive rebounds — and threw an inbound pass the Thomas in the backcourt and cleared the stage for him to go one-on-one with Quentin Grimes to try and find the dagger. Thomas stalked the Knicks rookie down, sized him up, and drilled a stepback 28-footer that left the Garden speechless and had the Knicks bench going crazy.
It was a comeback that should've been unbelievable, but has become all too familiar a sight for Knicks fans this season, as they've seen a number of late leads evaporate as their crunchtime offense slows down and they lose all rhythm. The Knicks are now just 4-3 in their last seven games that they've held a 20-point lead, which seems impossible, but illustrates just how frequent these collapses are.
Still, the other team has to find shotmaking in order to make those comebacks happen and on Wednesday night, without their top two bucket-getters, it was the rookie Thomas who has shown that ability throughout his first season in the league who shook off a dreadful start to the game and found his stroke to carry Brooklyn to a thrilling win.